Promotions aren't fun when the codes don't work. We're here to help, but it's important to understand the promo code restrictions before you reach out to us.
Where do I find the promo code restrictions?
We communicate these restrictions in our emails and terms and conditions pages. In emails, you'll see the details of the code at the bottom of the email. See below!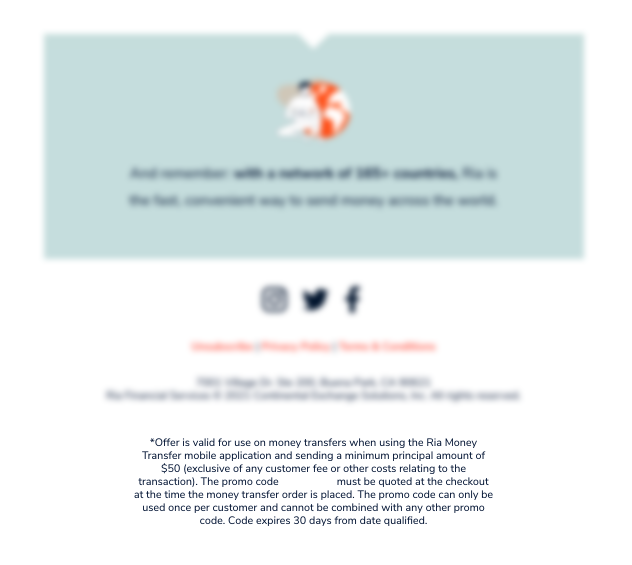 Please note: This is only an example of where you can find promo code restrictions. This doesn't necessarily cover the restrictions of all promo codes.
Sometimes, we'll direct you to a web page with more information and expanded terms and conditions. We usually have these for global and regional promotions!
Making sure your transfer is eligible for the promo
If the promo code isn't working, it's important to try to find the restrictions first. From there, go through the following questions:
Has the code expired?
If yes, the code won't work. Keep in mind some promos only exist for certain months or holidays.
Is the code for new customers?
If yes and you've transferred with us before, the code won't work.
Can the code only be used once?
If yes, you won't be able to use it again unless it's a multiple use code.
Is there a minimum amount I have to send?
If yes, you have to send that amount or more. We refer to this as "minimum principal amount."
Is my destination country eligible?
If not, the code won't work. Sometimes, promo codes can't be used for certain destination countries.
Is my payment method eligible?
If not, try another payment method. Occasionally, promos are for specific payment methods, like bank or cash. It will be listed in the restrictions.
Is my delivery method ineligible?
If not, try another delivery method. Just like the payment methods, some promos are for specific delivery methods. It will be listed in the restrictions.